Hello everyone! Metal stamping jewelry is in full swing!
The more I have learned the more I have realized I need… lol… I am preparing for the fall winter craft bazaars and I'd like to have a good variety of items. Here is one of my favorite creations so far! I love this super cute snowman ornament! I actually bought a sheet of raw copper, sawed and filed the hat by hand, and added some hammered texture! These are going into my online store in the next couple of days, so keep an eye out for all the new items!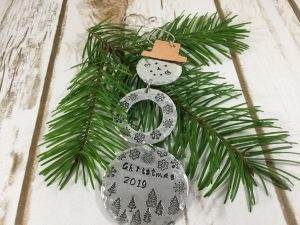 My Lortone tumbler arrived
and I can honestly say it makes a HUGE difference in how shiny the pieces are for all types of metal. After all the the stamping and shaping simply throw the items in the tumbler with the steel shot, water, and some cleaner. Then I run the tumbler for 20 minutes to a couple hours and Voila, HUGE difference! Very happy I made the decision to get it! Thank you Facebook Destash groups, lol…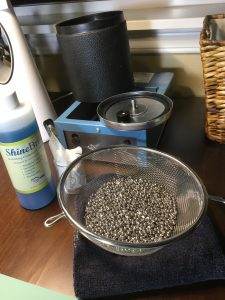 I have decided to take the plunge into soldering silver
and I now have everything I need to make my stackable personalized rings! Watch for pictures soon! This is something I am super excited about and I have actually had this butane torch for years (originally I purchased it for Creme Brulee, which was yummy by the way!) but, I have a feeling the torch will get much more use on the silver than in the kitchen, a cook I am not!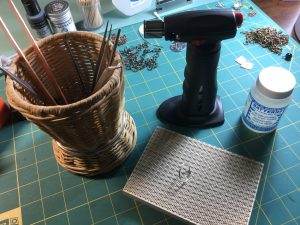 Also, I did a bunch of research
on another tool I was thinking of getting, a ring jig and I decided NOT to get one. Essentially, this is a tool that is shaped like a drill press where the base plate is interchangeable ring rounds, and then the shank is placed on the top and you can stamp onto a ring. Really expensive! I know a huge amount of people love them, but I really like to be able to see my stamping, and actually have my hands on the metal. After reading a lot I decided that I would prefer stamping on a ring mandrel and a jewelry sandbag ( I had the mandrel, but had to order a leather sandbag, which is now here in it's new home!)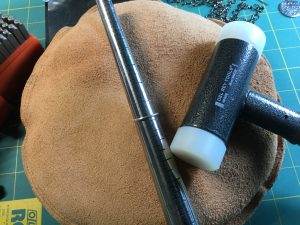 I now have all the items needed to experiment with making stackable rings. I'm super excited!
In the meantime I have been creating necklaces, bracelets and earrings to hang my stamped items on. All of these will soon be going up in my online store! Woohoo!. I have also made Christmas ornaments, and key rings. Love this keyring I made for my daughter to gift to her dad!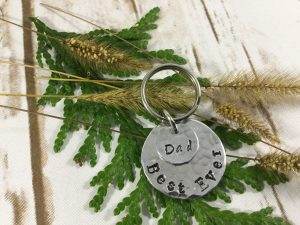 My hand stamped card world has also been productive. I spent the day sorting and adding finishing touches onto all the cards I have in stock. It actually took the entire day, which surprised me! This year I'm striving to make my craft booths very uncluttered and clearly labeled. I am aiming to leave them set up in my loft so I can stock, break down and set up as easy as possible. This way guests can also shop whenever I have a class, too! The cards are not in their pretty display baskets yet, but at least they are organized!
Wow, I have been busy in a good way!
I recently had a few events at my home for Stampin' Up! paper crafting, so of course I've also been creating cards and stuff! Here is a couple of my recent cards from a class we had
I wanted to give my stampers a choice between Halloween, Fall, or both. The paper is reversible. Yay for versatility! I love the ornate die cut frames and Halloween paper! These were a great choice for a quick and easy card!
I did a couple more cards with the ornate dies… A Halloween one using the same paper stack and a wedding one in classic gray, black, and white. Also did a card with sponging and the willow die cuts and I love that new set! I am super excited for this weekends new round of Stamp Club I have all the cards created and ready to stamp! Love my ladies and enjoy spending time with them!
Also immediately after stamp club I am hosting a class for making the Christmas Countdown kit! If you have not already grabbed one for yourself, you definitely should! It is a really cute and well made kit!
It's also that time of year again!
I have been preparing for the Christmas card Stamp a Stack I hold every November! It is one of my biggest classes and I love to have the tree up, Christmas music playing, and hot cider ready to go!
In my metal stamping and jewelry world…
I am on information overload and ridiculously excited! What about? Well, I have been practicing with aluminum and in addition to my two font sets (and 3 hearts) I recently ordered a bunch of design stamps. These are things like an arrow, a compass, a cup of coffee, a book, a lotus flower, etc…
I have joined a bunch of Facebook groups and also been watching video tutorials, which led me realizing I NEEDED a tumbler…lol… THEN realized I needed shot to put in the tumbler ( did you know some shapes are better than others? Who knew.). My tumbler is arriving next week. Squeee!
In the meantime I am happily stamping along on my aluminum, practicing bracelets today. I am making a bracelet for each of the ladies in the Bible study I host, it says "Where two or more are gathered in My name…". Super excited about those, they look cute and I haven't even tumbled them yet!
During this bracelet making time…
I am following a discussion on Facebook on a beautiful set of stamped rings. So I ask the simple question, what is the best place to find silver ring blanks. Guess what, most who replied make their own.
Now, I have to admit I did find some pre-made ones on Etsy, but I just couldn't justify the cost when I knew I could make it myself. Well I already had the butane torch… and on the bright side I will also be able to make custom bracelets, shapes, and lots of other things too! So I watched some videos, and of course placed an order for silver sheet metal, flux, a jewelers saw, wax, an annealing block, and everything else that goes with it. This stuff is also arriving next week. Squeee!
I imagine that is enough to keep me busy for a while. Meow.
I seem to be writing my posts on Sunday afternoons so far, while my husband watches football. I am actually writing them on a tablet as an email that I send to myself. That way when I get to my desk I can copy, paste, and edit easily! Wish I would have thought of that a long time ago! Over the last week I have continued to purge, organize, and even found time to create. Notice the updated blog header, yep I created that! My friend Libby Foreman gave me feedback on wording and spacing, she was a great sounding board! Thank you!
My blog is evolving, and Integrant Services is amazing for blog help!
Although I created the image for the header myself, I could not for the life of me figure out how to upload it to my blog. When it comes to the really technical stuff I turn to Integrant Services! This husband and wife duo are such a blessing! They do amazing work and are very fairly priced. Their maintenance programs are very reasonable, too! Nope, I was not paid to say that! I just want to pass along a great tip for those of you who need this kind of help! I was amazed at how hard it was to find someone! So now I have a new blog domain name and I even have a new email! Thank you Brian and Nicole!
On to the metal stamped jewelry!
I had tentatively played with my metal stamping a few times, but had never really tried to make anything. Until now. Here is a picture of the three types of chain I purchased to create some necklaces, as well as my very first metal stamping items. I will take pictures of my completed items after I add the beads, charms, etc… I share my thoughts about what I learned below!
A sweet friend who used to do metal stamping gave me a few tips to try. I thought they were brilliant! Thank you Tracy Lewis! One of the things she suggested was to stamp your intended font or image on a paper template using ink, so you can make sure it will fit and get an idea of what the layout needs to be. I actually used my paper punches and created templates to stamp on that way. She also suggested inking up each alphabet font and "stamping" unto paper many times to practice. This was so helpful to me in general, just to see how the fonts stamped.
My very first real stamping attempt was on a blank I had already. I had no idea what type of metal it was, so it turned out to be very hard. I am thinking a stainless steel. There are sets of fonts that are meant to stamp stainless steel, mine are not, however, made for that. Needless to say the stamping was very shallow. Which led to me being unsure why my blackening agent wasn't working. I tried Gilder's Paste in black, as well as a Sharpie. After stamping on a few of my aluminum blanks I realized what was wrong… lol, yep i was a bit slow on this one!
Aluminum and copper are a great metal to start with.
The aluminum ones stamped easily with one strike using steady pressure. Success! So I actually went back to the steel one, and lined up my fonts and tried again with really hard pressure and a few strikes. I don't suggest doing this, but I knew I would never do it again, and the item was for my daughter. Her favorite bible verse is Romans 8:18, so I figured it was good practice. All things considered it actually turned out well!
The spacing on my small meow charm was not good. That one is for practice, maybe I'll put it in a scrapbook. Maybe I can add a dash and make it into Me-ow. Yep, of course I meant to do that!
Oh, I learned one really important thing! The handheld hole punches I had are not great for this! They leave an ugly ring around where the hole was punched. This lead me to purchase a Double Hole Punch Plate, (below) which applies a more controlled pressure. No ugly rings!
That's all for today! MEOW!
Happy creating, Shannon