Hello everyone! Metal stamping jewelry is in full swing!
The more I have learned the more I have realized I need… lol… I am preparing for the fall winter craft bazaars and I'd like to have a good variety of items. Here is one of my favorite creations so far! I love this super cute snowman ornament! I actually bought a sheet of raw copper, sawed and filed the hat by hand, and added some hammered texture! These are going into my online store in the next couple of days, so keep an eye out for all the new items!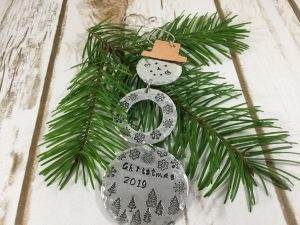 My Lortone tumbler arrived
and I can honestly say it makes a HUGE difference in how shiny the pieces are for all types of metal. After all the the stamping and shaping simply throw the items in the tumbler with the steel shot, water, and some cleaner. Then I run the tumbler for 20 minutes to a couple hours and Voila, HUGE difference! Very happy I made the decision to get it! Thank you Facebook Destash groups, lol…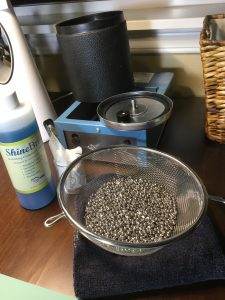 I have decided to take the plunge into soldering silver
and I now have everything I need to make my stackable personalized rings! Watch for pictures soon! This is something I am super excited about and I have actually had this butane torch for years (originally I purchased it for Creme Brulee, which was yummy by the way!) but, I have a feeling the torch will get much more use on the silver than in the kitchen, a cook I am not!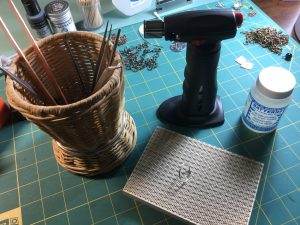 Also, I did a bunch of research
on another tool I was thinking of getting, a ring jig and I decided NOT to get one. Essentially, this is a tool that is shaped like a drill press where the base plate is interchangeable ring rounds, and then the shank is placed on the top and you can stamp onto a ring. Really expensive! I know a huge amount of people love them, but I really like to be able to see my stamping, and actually have my hands on the metal. After reading a lot I decided that I would prefer stamping on a ring mandrel and a jewelry sandbag ( I had the mandrel, but had to order a leather sandbag, which is now here in it's new home!)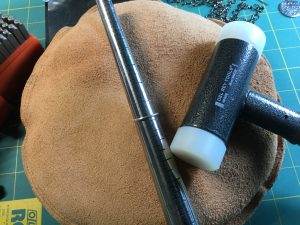 I now have all the items needed to experiment with making stackable rings. I'm super excited!
In the meantime I have been creating necklaces, bracelets and earrings to hang my stamped items on. All of these will soon be going up in my online store! Woohoo!. I have also made Christmas ornaments, and key rings. Love this keyring I made for my daughter to gift to her dad!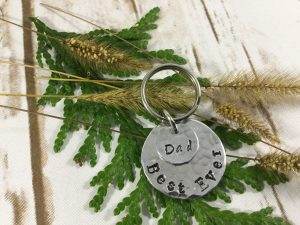 My hand stamped card world has also been productive. I spent the day sorting and adding finishing touches onto all the cards I have in stock. It actually took the entire day, which surprised me! This year I'm striving to make my craft booths very uncluttered and clearly labeled. I am aiming to leave them set up in my loft so I can stock, break down and set up as easy as possible. This way guests can also shop whenever I have a class, too! The cards are not in their pretty display baskets yet, but at least they are organized!